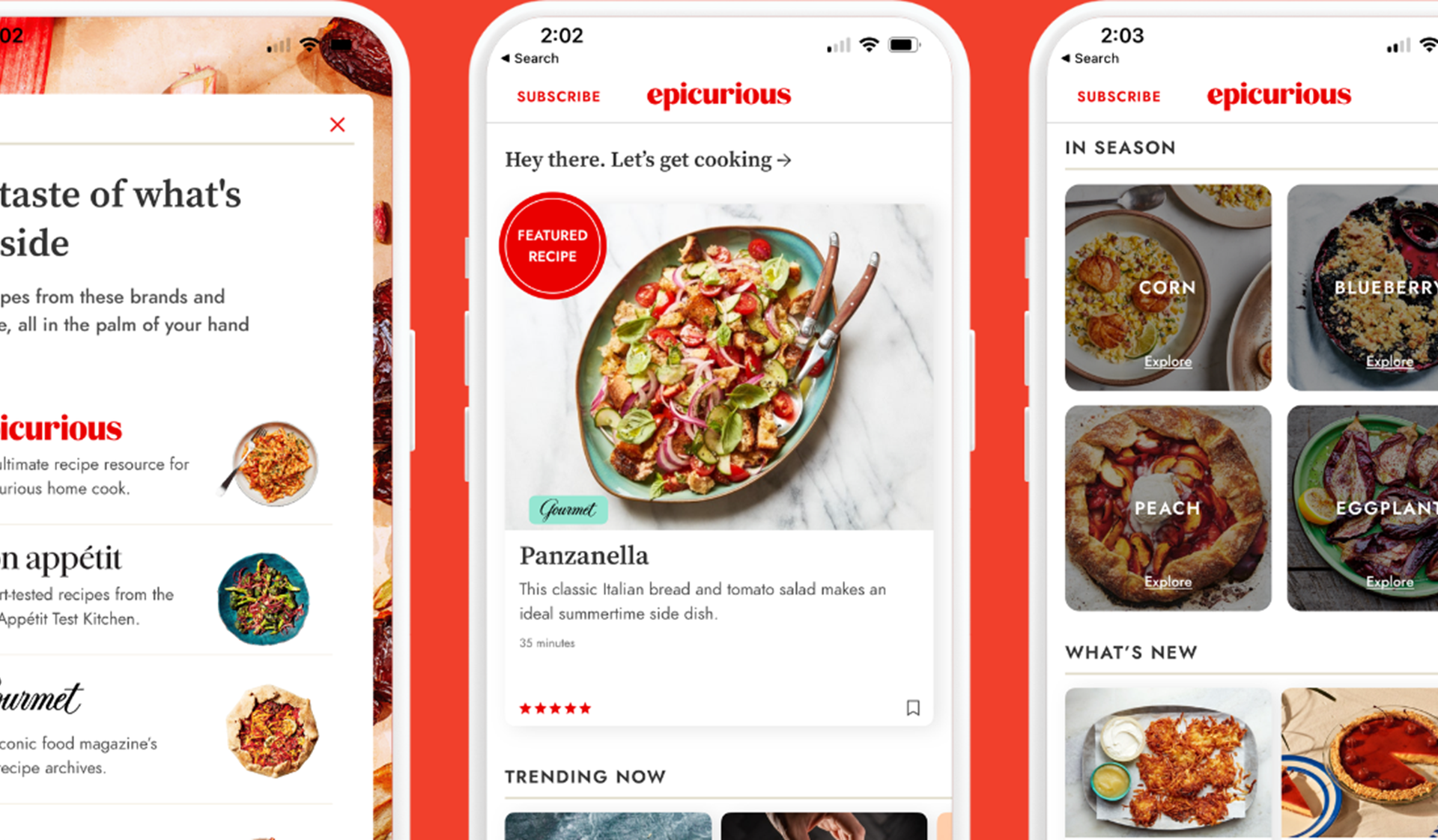 Case Study
Epicurious
Bon Appétit and Epicurious are renowned for their food and cooking content. Prior to 2021, each brand had their own separate mobile app. Usable Interface was hired to conduct 4 rounds of iterative usability testing on a new design of the Epicurious app that would incorporate the recipes from Bon Appétit. The main objective of this study was to identify usability issues, refine the prototypes of the new mobile app design, and enable the UX and product management teams to prioritize future sprints.
Competencies
Remote Interviewing
Iterative Usability Testing
Started in 1956, Bon Appétit is a monthly American food and entertaining magazine that typically contains recipes, entertaining ideas, restaurant recommendations, and wine reviews. It's owned by Condé Nast which also created the website Epicurious in 1995 to develop food and cooking content specifically for the Internet.
Project Goals
Each round of testing had specific goals related to the features that were being tested in that round, but overall we wanted to learn…
What do people like/dislike about the recipe apps they currently use?
What would be the optimal onboarding experience when first using the app?
How do users search for recipes?

When browsing, do users prefer collections over individual recipes?

What is important information to display when browsing a recipe?

What app features or designs best support cooking from a recipe? 
What is the right level of personalization? What app features or designs give a sense that the app is tailored and specific to the user, like "things you've recently saved" or "recipes you've recently viewed?"
Methodology
Conducted 4 rounds of moderated usability testing with 10 participants (per round) over 9 weeks

Participants included a mix of current Bon Appétit and Epicurious users as well as people who avidly used other recipe apps
The recruiting screener was slightly revised for each round depending on the features we wanted to test
Condé Nast's usertesting.com account was used to recruit participants

Each test session was 60 minutes in duration and conducted remotely using Zoom
Key stakeholders and members of the design team observed test sessions and participated in a debrief at the conclusion of each round
The findings were analyzed and a top line report was created to document the key findings and recommendations. Highlight reels were also created for those that couldn't observe.
Project Kick-off
Condé Nast had a large cross functional team dedicated to working on the MVP of the new Epicurious app. To hit the ground running, we worked with the product team to define the design objectives for each round of testing and come up with a testing schedule. We decided the first round would strictly be a user research study to gain some understanding of how recipe apps are currently being used and what is and is not working well for users. Then we decided the remaining rounds would be dedicated to testing prototypes of different features of the new app.
Iterative Usability Testiing
Each design sprint was 2-3 weeks and each round of testing took 3 days to test 10 participants. Rather than try and cram the testing into 2 days, we wanted to build time into the testing schedule to revise the prototype in between sessions, if necessary. A summary of the daily highlights were sent at the end of each testing day in the team's Slack channel. All team members were encouraged to observe the testing and take notes. An online whiteboard (Miro) was used to create a findings synthesis board that everyone could access and collaborate on. At the end of each round of testing, the findings and recommendations were quickly documented and presented to the team.
Challenges
Fitting research within 2-3-week sprint cycles is always challenging. Analysis and reporting needs to be conducted quickly in order to help inform the next sprint cycle. The design and development team were very busy preparing the next round of prototypes while also trying to make time to observe the testing of the current round. To meet this challenge, we made sure to pass on information as it was received rather than making the team wait for the read-out of the report at the end of the sprint. Daily summaries and highlight reels were key to keeping everyone informed throughout this fast-paced project.
Project Completion
After 9 weeks, we finished our 4th and final round of iterative usability testing. During this study, we were able to test the onboarding flow, home screen, recipe detail screen, personalization features, search and filtering functionality, browsing experience, and different flows for dietary needs. We also collected insights into the recipe discovery process, cooking habits, and what motivates people to become paid subscribers.
The iterative usability testing helped the team to make important design decisions quickly. In the end, Condé Nast was able to confidently launch an MVP of the redesigned Epicurious app knowing that what they developed would be easy to use and enjoyed by both current and prospective users.
 ----------------------------------------------------------
"I hired Kyle to conduct user research in support of our Condé Nast food brands—Bon Appétit and Epicurious. From day one Kyle was a total pro in establishing a rapport and research cadence with our team of product designers, product managers, program managers, and market researchers.
Kyle was quick to identify project goals, always asked the right interview questions, and left no stone unturned in conducting usability tests with our audience members. She was endlessly patient and completely thorough. 
We learned so much from her daily updates and end-of-sprint share-outs, and her impact on our design strategy is massive. I highly recommend working with Kyle!"
Gregg Bernstein
UX Lead
Condé Nast (Currently Director of UX Research at Hearst Magazines)