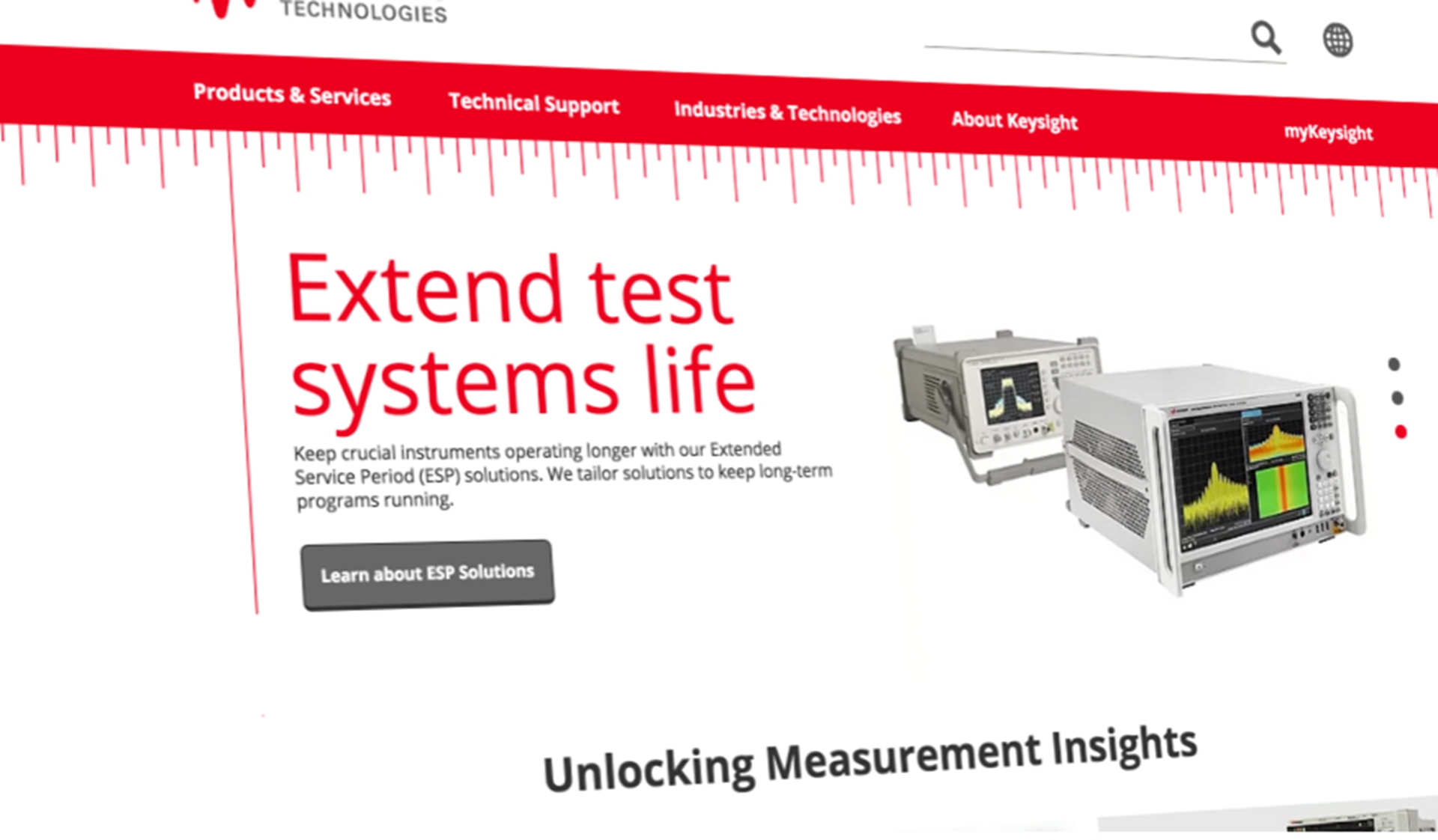 Case Study
Keysight Technologies
Usable Interface was first hired by Keysight to conduct a usability study on the existing agilent.com website. The success of this study has led to six other usability studies conducted by Usable Interface for Keysight over the course of two years. Usable Interface has tested over one hundred Keysight customers, both domestic and international.
Competencies
Remote Usability Testing
In-depth Interviewing
Keysight Technologies, formerly Agilent Technologies, is the world's premier electronic test and measurement company. Agilent spun o from Hewlett-Packard Company in 1999 as part of a corporate realignment that created two separate companies. Keysight's impressive product portfolio includes: network analyzers, signal analyzers, signal sources, oscilloscopes, one box testers, electronic design automation software, and more.
Usable Interface has conducted a total of seven usability studies for Keysight Technologies on various areas of the online quoting and shopping experience.
Project Kick-offs
Usable Interface's Kyle Soucy worked with the stakeholders of each project to define the goals and a plan for delivering a usability testing study that would give Keysight the answers they need to make considerable improvements to their website and conversion of online sales.
Remote Usability Testing
All usability studies for Keysight have been conducted remotely. Keysight's employees and customers are geographically dispersed throughout the world, so remote usability testing gave them the best option when it came to accessing their customers and getting their team members to observe and participate in testing.
Remote testing also provided the added benefit of keeping the user in the comfort of their own home or office, which makes the recruiting easier and it opens up the opportunity to gather ethnographic data that would otherwise never be collected through an in-person lab test (i.e. real life environment distractions, details about the type of computer and browser they use, facts about their system settings and pop-up blockers, etc).
Completed Pojects
In less than two years, seven remote usability studies were conducted with over a hundred Keysight customers, both domestic and international. This research has helped to improve the design for online product selection, comparison, support and quoting. Usable Interface is proud to be one of Keysight's preferred vendors for usability testing.
---
"Kyle is one of the best usability interviewers I have worked with... She is able to easily turn the business needs into a research guide, clearly synthesize and present the findings, and work well with the internal team. On top of all this, she brings the projects in on-time and within-budget. Kyle is a pleasure to work with and produces exceptional work. I strongly recommend her."
Holly Phillips
Usability, Research, and Optimization Manager
Keysight Technologies