SERVICE
Training & Speaking
Does your team lack the skills needed to bring UX research in-house? Are you looking for a speaker for your next UX event? A custom talk or workshop on various topics in UX research can be crafted to fit your needs.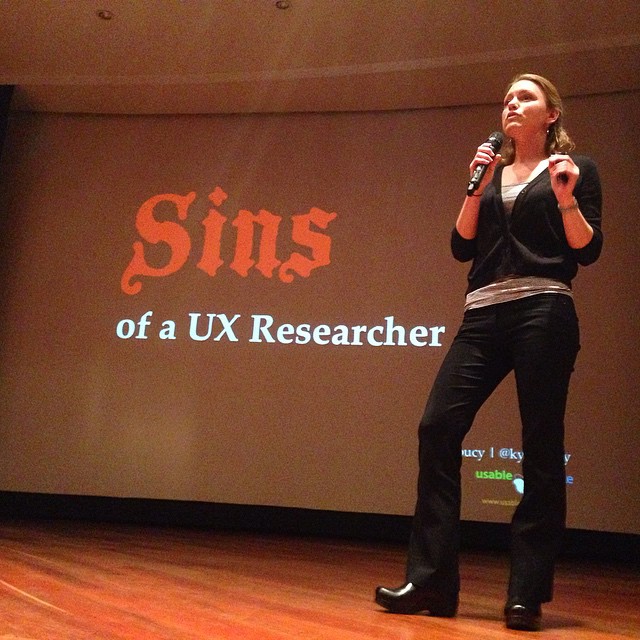 Speaking Engagements
If you've ever seen Kyle present, you know that teaching and sharing her knowledge is one of her passions. She has become a popular speaker and guest lecturer on all things related to UX research. Kyle has had the pleasure of giving talks from all across the United States to Bogota, Colombia. Her recent event appearances include: Big Design, Boston UXPA, CHI, Convey UX, Drupal Design Camp Boston, edUi, IA Summit, SxSW, UXPA International, Web 2.0, World Usability Day Colombia, and Writers UA. You can also find Kyle giving talks to local UX groups (CT UXPA, Maine IxDA, NH UXPA, and PhillyCHI). Please see the list of presentations below and contact Kyle if you think she'd be a good fit for a public or private event that you are hosting.
Custom Training
Kyle provides custom workshops on various topics on UX research, such as: persona creation, in-depth interviewing, usability testing (remote & in-person -- everything from creating a moderator guide to moderating), fitting UX into an Agile development process, and lean research techniques. Kyle has even conducted workshops on public speaking and team collaboration.
A workshop can be customized to fit the needs of your team. Let's discuss your needs and see what training Kyle can offer.
Recorded Talks
Some of Kyle's Slideshare's
You can view all available decks on
Kyle's Slideshare account.
Speaker Testimonials
"A fantastic first session at BarCamp Manchester with a lot of great information. Kyle obviously knows her stuff, and more importantly, she knows how to present it. I felt like a student in a classroom, where the professor is teaching but also looking for interaction with her audience.

It would've been great if she had longer than 45 minutes, as her insights into user testing and card sorting was all very useful material."

- Patrick Haney User Interface Designer
Harvard University

---

"Two thumbs up! Kyle is an engaging and energetic speaker. The hands-on exercise was a bit of a risk but it went off w/o a hitch. Kyle went the extra mile to include it in her presentation and it was all the better for it!"

- UXPA Boston Conference Attendee Workshop: Collaging for UX Research

---

"I love workshops that offer a chance to learn from a brilliant practitioner who's also a wonderful teacher who makes the material more accessible by teaching online — and Kyle Soucy ticks all the boxes!"

- Margot Bloomstein
Author of Trustworthy
& Content Strategy at Work

---

"Very inspirational talk and useful tips about storytelling!! One of the best of #UXPABOS19."

- Martina Pérez
Product Designer
Hotjar